Pastor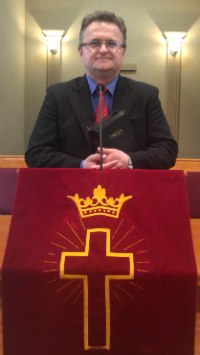 Present Day
We believe that the Bible is the Word of God fully inspired and without error in all its assertions. We emphasize the knowledge and the application of the Word in all segments of life. The true change in people's lives can be produced by the Word of Scripture predicated and presented within the power and authority of the Holy Spirit. 2 Timothy 3:16-17 All Scripture is God-breathed and is useful for teaching, rebuking, correcting and training in righteousness,17 so that the servant of God may be thoroughly equipped for every good work.
We believe in the power of prayer and we hope it holds important in our lives. We hope that all work is backed by prayer and every member be remembered in prayer by all other members. James 5:16 The prayer of a righteous person has great power as it is working.
We believe that by following the Great Commandment and the Great Sending we bring glory to God, build His Church and we are a great example to the world. Matthew 28:19- 20 Go therefore and make disciples of all nations, baptizing them in[a] the name of the Father and of the Son and of the Holy Spirit, 20 teaching them to observe all that I have commanded you. And behold, I am with you always, to the end of the age."
We believe that the responsibility of the Commandment and the Good works belongs to all members and so we encourage the individuals and small groups in divine services, to use their spiritual gifts and to serve God with their maximum capacity given by the Lord. Psalm 45:1 My heart overflows with a pleasing theme; I address my verses to the king; my tongue is like the pen of a ready scribe.
We believe that a church must be as a family and it can not be more than the families which belong to it. This is why we encourage the family unity, where each must know how to take their part which was assigned to them by God. Joshua 24:15 But as for me and my house, we will serve the Lord.
We wish to be a church motivated by faithfulness and not success in all our tasks. We wish that every member is faithful to what they have been assigned to them. 1 Corinthians 4:2 Moreover, it is required of stewards that they be found faithful.
More importantly we wish to be a church that awaits for the Lord and so that every time that we are together is a rehearsal for heaven. Luke 12:36 And be like men who are waiting for their master to come home from the wedding feast, so that they may open the door to him at once when he comes and knocks.